Information
The Aircore Creeker whitewater kayak paddle blade is designed to be a great all-round paddle that is smooth and well balanced.
Available here on a straight carbon shaft which offers a stiffer set up allowing more direct power transfer - this suit's kayakers who are racing or more conditioned.
The blade area is neutrally aligned either side of the dihedral, with the area being well distributed along both the length and width of the blade.
This suits a wide range of kayak paddlers from beginners, to river runners, hardcore creek boaters and those paddling 'day in and day out' working in the kayak industry.
The Creeker kayak paddle blade suites longer lengths used in 'mid to longer length' river runners and creek boats and those looking for a blade less powerful than our Pro whitewater paddle range.
Available as 2-piece splits
Two piece splits are ideal for fitting in the car and the rear of larger volume kayaks for use as an emergency paddle.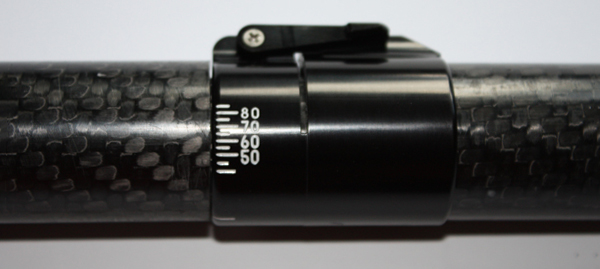 The split joint is strong and robust, requires no tools and can be easily operated from inside the kayak. The ferrule has the added benefit of additional length adjustment up to 10cms.
The Creeker blade is available in 2 sizes:
Standard: Area 700 cm2, Overall length 485 mm, overall width 200 mm.
Small: Area 650 cm2, Overall length 485 mm, overall width 189 mm.
Available as standard in a large range of lengths and angles, custom setup is still an option for those of you that like something a little bit special.
Every set of VE Paddles is made in Britain, by hand, at our factory in Clevedon. We take care at each step so you can rely on VE as your connection to the water. VE paddles are made using pre-preg carbon and fibreglass materials and compression moulded construction techniques. Blades are fitted onto proprietary carbon or glass shafts; in straight, crank and split versions. All VE Paddles are assembled to a strict process, to ensure a quality finished product. VE Paddles come in a wide range of configurations. We offer popular models in standard lengths, angles and shaft types, plus the chance to customise for your style. The product descriptions and paddle length charts will help guide your choice, but if you want advice on what will work best for you, please get in contact with us. We aim to deliver within 30 working days of receiving your order, although custom orders may take a little longer. If you have a broken or damaged paddle, we can often repair or replace it to get you back on the water. VE paddles come with a 24-month warranty against manufacturing defects.